Requirements
You can install and use iWorkConverter on Mac computers with the Apple M1 chip or on Mac computers with an Intel processor.
Before installing iWorkConverter, please make sure your Mac meets the following requirements:
OS: Mac OS X 10.6 or higher
Pre-install iWork suite is needed, iWorkConverter need them to perform automatic convert.
To convert Pages document ( .pages ), please install Pages.app on AppStore.
To convert Numbers document ( .numbers ), please install Numbers.app on AppStore.
To convert Keynote document ( .key ), please install Keynote.app on AppStore.
Install
Download iWorkConverter from https://tyorex.com, open iWorkConverter.dmg and drag iWork Converter.app to your Applications.
Open Applications folder, holding Ctrl key and click on iWork Converter.app, then select Open.
Then select Open in the popup window.
You can release Ctrl key after the app open.
Note: On Mac most software will open without any issues after the first time but if you encounter it again use the same process.
Accessibility Permission
iWork Converter use high level automatic technical to convert documents, it needs accessibility permission enable. If you are first time open this app, you will see a permission check window.
Please click Enable Accessibility.
It will open system Security & Privacy settings, please unlock it.
Then enable iWork Converter in Privacy tab.
After privacy enabled, the permission check done.
If you face any errors, please try to delete iWork Converter in Privacy then re-open iWork Converter and do above steps again.
Configuration
You can change the settings by click Preferences or press Cmd+,
Output Folder:
You can select an output directory where all the converted files will be outputted. If "Output to the directory in which the source file resides" is selected, the output file will be stored in the same directory as the input file.
Pages Options:
You can set up the output format of pages files, it supports pdf, doc and docx.
Note that docx files are only supported by Pages 6 or above version.
Numbers Options:
You can set up the output format of Numbers files, it supports pdf, xls and xlsx.
Keynote Options:
Output options for keynote, it supports pdf, ppt and pptx.
For pdf document, you can change the quality of pdf in the pdf options page.
How to Use
There are easy ways of using iWorkConverter:
Drag and drop the iWork files into app window to perform conversion.
Drag your documents to iWork Converter dock icon to perform conversion.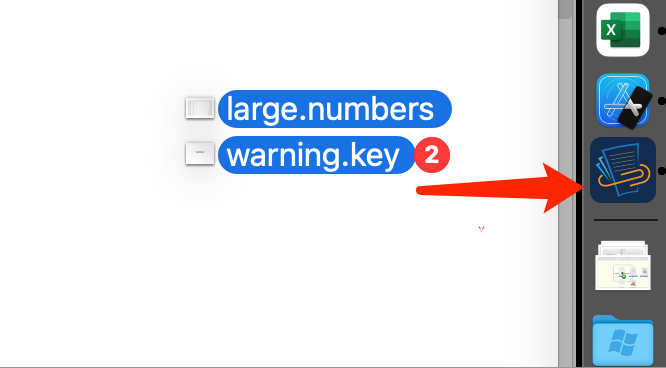 Or click app toolbar to select your documents that you want to convert.
Please note that void to use iWork or other app while conversion is running, it may cause the converting failed.
Command Line Mode
You can pass document path via command line mode, for example:
"/Applications/iWork Converter.app/Contents/MacOS/iWork Converter" ~/Downloads/10.pages
In command line mode, iWork Converter will use same settings for document conversion, iWork Converter will automatic handle your input file and perform conversion.
Troubleshooting
Please refer to the Installation in this manual, you have to hold the Ctrl key while opening the app.
Please make sure you are using the latest version of iWorkConverter, and the Accessibility Permission is enable.
If you did all but the error still occurs, please send the screenshot and one of your example document to support@tyorex.com. Our engineer will help you to solve the issue.